FOLLOW/SHARE LA COUNTY PUBLIC HEALTH SOCIAL MEDIA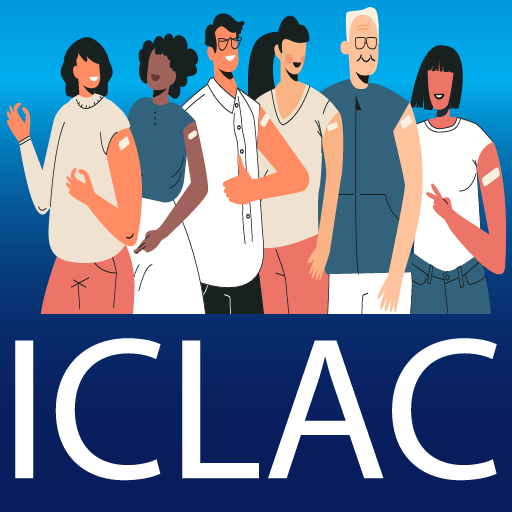 Visit ICLAC's Where to Get Vaccinated page for which routine and recommended vaccines are needed for you or a family member, how to find a vaccination clinic near you, or request in-home vaccination. Information provided is for all routine and recommended vaccines throughout the lifespan including COVID-19 and flu.
Celebrating Pride
Vaccine Resources for the LGBTQ+ Community
The We Can Do This Campaign has social media posts to encourage COVID vaccinations during Pride month. Suggested Messaging: Protect yourself from COVID's worst outcomes as you gather for festivities during Pride Month. Find resources on COVID safety measures at covid.gov.
Additional LGBTQ+ Vaccination Resources:
HPV Vaccination Starting at Age 9 – 2023 Human Vaccines & Immunotherapeutics Collection (Research)
Given the low rates of HPV vaccination initiation & timely series completion in 11-12-yr-old children, are there potential opportunities for initiating routine vax at a younger age?
The 2023 Human Vaccines & Immunotherapeutics Collection presents original research on the impact of initiating HPV vaccination at ages 9-10, including population studies and quality improvement projects, as well as commentaries from medical organizations and leading experts in the field. The Collection is still open for new submissions.
ICLAC COMMUNITY SPOTLIGHT
LA County Parks - Pride at the Park
Celebrate Pride Month with LA County Parks during the month of June 2023! Join for fun and inclusive events all over the county.
This year, LA County Parks is hosting its first department wide Pride Month celebration through the month of June at 56 parks in partnership with LGBTQ+ community-based organizations.
These 2-hour programs hope to elevate inclusion in parks and recreation programs and spaces, while celebrating LA County's diversity.
Each park will host a different activity and experience that may range from a picnic, artist experience, concert, sports tournament, and dance, just to name a few.
Check out http://parks.lacounty.gov/pride for more details.
If you are traveling to or from LA County for PRIDE, use the CDC's Vaccine Locator tool to find mpox vaccine wherever you are.
NEW EVENTS, WEBINARS, TOWN HALLS
Save the Date!


Sunday, June 18, 2023
9:00 – 4:00pm

Supervisor Holly J. Mitchell's Juneteenth Celebration & Resource Fair is a free community event that raises awareness of the historical impact of Juneteenth, connects residents to vital County and community services, and creates a necessary space for celebrating joy and redefining what freedom means today with empowering discussions, performances, and activities. All residents are welcomed and encouraged to attend.
https://mitchell.lacounty.gov/juneteenth2023/
Reducing the Incidence and Severity of RSV in Older Adults: Opportunities for Patient Identification and Vaccination Counseling
June 8, 2023 | 3:00 - 5:00pm PT
This webinar via Pharmacy Times Continuing Education (PTCE) will detail the latest safety and immunogenicity of emerging vaccines for RSV that are targeted for the older adult population and will feature patient counseling videos that highlight scenarios showing interactions and opportunities for pharmacists to share education about the burden of RSV and benefits of vaccination. The discussion will include strategies pharmacists can implement to minimize the spread of vaccine misinformation, overcome barriers to vaccination, and ensure higher vaccination rates among older adults at risk for RSV infection.
Evaluating and Supporting Patients with Long COVID in Returning to Work
June 16, 2023 | 10:30am - 12:30pm PT
It's Bigger Than Us (IBTU)
was established in 2020 to provide safety and hope during the COVID-19 pandemic and social unrest. The worldwide pandemic has disproportionately harmed vulnerable minority communities, and IBTU focuses on finding solutions to the limited access to resources and economic mobility in South Los Angeles. To date, It's Bigger Than Us has grown its impact on disempowered communities through its significant increase in outreach events, individuals served, and resources distributed.
Evaluating and Supporting Patients with Long COVID in Returning to Work
June 15, 2023 | 11:00am PT
During this COCA Call, presenters will review some of the complex symptoms specific to Long COVID, discuss medical considerations for recommending return to work, and review accommodations to support patients returning to the workplace.
Vaccine Literacy for the Young
June 21, 2023 | 4:00pm PT
To fight future vaccine hesitancy, we need to bring scientific literacy concerning vaccines to young people. This Vax Ambassador meeting from Voices for Vaccines will discuss what we need to teach children about vaccines, how to reach them, and which partners we should include.
Save the Date:
LAC DPH - AAP Pediatric Information Session for Providers
July, 11, 2023 | 12:00pm PT
Los Angeles County Department of Public Health invites you to join the next Vaccine Preventable Disease Control Information Session for Pediatric Providers scheduled Tuesday, July 11th at 12:00 pm. The theme is School Health, and we are pleased to announce that LAUSD's, Chief Medical Director, Smita Malhotra, MD, will join us to present "Health Access and Equity in a School Setting."
Please contact

[email protected]

to be added to the meeting invite or use the following Microsoft Teams link.
LOS ANGELES COUNTY COVID NEWS & UPDATES
June 5, 2023 – COVID-19 Situational Update
COVID metrics remain stable. On Tuesday, May 30, LAC DPH reported 1,801 COVID-19 cases, which is a decrease from the 2,157 COVID-19 cases reported the previous week.
This past week, there was an average of 45 hospital admissionsper day. This is an increase from the average of 27 hospital admissions the previous week.
Last week, LAC DPH reported a total of 40 deaths, an increase from the 35 deaths reported the week before.
Public Health's Call Center connects eligible residents to free telehealth, homebound vaccination appointments, COVID-19 information, and other resources. Residents are encouraged to call 1-833-540-0473, available daily between 8 a.m. to 8:30 p.m., to access these services.
EXTERNAL NEWS HEADLINES
Stat: Public Health Communication Lessons From Covid 
Now that the Covid-19 public health emergency has ended, it's awfully tempting to put the pandemic firmly behind us. But now is the time to look at what we have learned so that our public health communication can be more clear, consistent, and effective from now on. One thing that we haven't talked about enough is the victories. (Estelle Willie, 6/6)
Bloomberg: FDA Revokes Authorization Of J&J's Covid Vaccine As Demand Wanes 
US regulators revoked emergency authorization for Johnson & Johnson's Covid-19 vaccine after the company's Janssen unit requested its withdrawal. (Cattan, 6/5)
CIDRAP: More Than 70% Of US Household COVID Spread Started With A Child, Study Suggests
A study published yesterday in JAMA Network Open suggests that 70.4% of nearly 850,000 US household COVID-19 transmissions originated with a child. … The authors concluded that children had an important role in the spread of SARS-CoV-2 and that in-person school also resulted in substantial spread. (Van Beusekom, 6/2)
Los Angeles Times: Why Is COVID Still Killing So Many People? 
Many immunocompromised and older people are still terrified of COVID. As a transplant infectious disease doctor on the front lines, I understand why. (Peter Chin-Hong, 6/5)