FOLLOW/SHARE LA COUNTY PUBLIC HEALTH SOCIAL MEDIA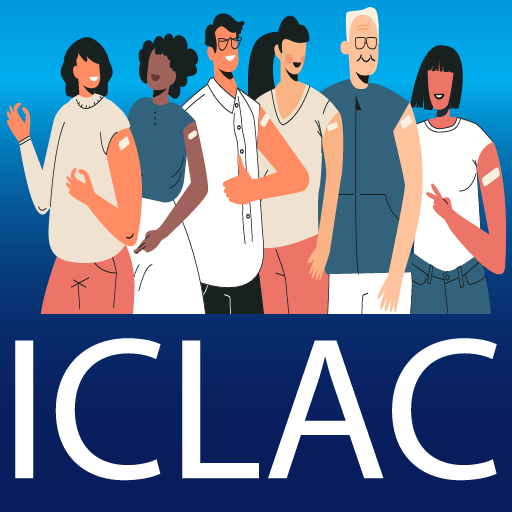 Visit ICLAC's Where to Get Vaccinated page for which routine and recommended vaccines are needed for you or a family member, how to find a vaccination clinic near you, or request in-home vaccination. Information provided is for all routine and recommended vaccines throughout the lifespan including COVID-19 and flu.
New App Addressing Vaccine Misinformation
from Voices for Vaccines
Voices for Vaccines has sorted through all the good information, the myths, and the misinformation to bring you credible, science-based vaccine information you can trust.
This app will help you debunk vaccine disinformation, start a conversation with a concerned friend, and advocate for public health to the people who mean the most to you: your friends and family. Click here to download.
Human Papillomavirus (HPV)-Associated Cancers
in LA County (Report)
HPV-associated cancers are declining in aggregate in the U.S. However, inequities in access to screening, treatment, and outcomes of these highly preventable cancers still exist in the United States. Examining the patterns and trends in incidence and mortality of HPV-associated cancers at the local level is critical for developing effective, targeted approaches for prevention.
Vaccinate Your Family: How Do We Know Vaccines are Safe? (Video)
Share this video from Vaccinate Your Family (VYF) through your social media network on vaccine safety. "How Do We Know Vaccines Are Safe?" In the U.S. we have a network of systems that constantly monitor for safety signals & alert at the slightest detection of a problem.
ICLAC COMMUNITY SPOTLIGHT
The 2023 Maurice R. Hilleman Essay Contest
Students in Grades 6 - 12
Deadline: June 9, 2023
The Vaccine Makers Project, the classroom-based program of the Vaccine Education Center (VEC) at Children's Hospital of Philadelphia, invites submissions for the 2023 Maurice R. Hilleman Essay Contest.
Students in grades 6 through 12 in the United States and Canada are encouraged to learn about Dr. Hilleman's life and accomplishments and submit a 500- to 600-word essay by June 9, 2023.
This year's writing prompt is "Preparedness is an important component of science as demonstrated by Maurice Hilleman when he identified the 1957 influenza pandemic. How is preparedness critical in science today?" 
Details and the entry form are available at HillemanFilm.com/contest. This year there will be six winners—three each from the United States and Canada. The winners will each receive $500, a certificate, and recognition at a virtual award event this fall.
Please share this information with eligible students or with teachers who may be interested in sharing with their students.   
NEW EVENTS, WEBINARS, TOWN HALLS
Digital Equity is Health Equity: Opportunities to Drive Change for Healthy Families and Equitable Communities
June 8, 2023 | 1:30 - 3:30pm PT
Join
Insure the Uninsured Project (ITUP)
and The Children's Partnership (TCP) share hot-off-the-press resources on the connection between digital equity and health; explore the barriers to digital access and how structural racism drives digital inequities across California; and highlight timely action opportunities to advance digital inclusion as a basis of health equity for all of California's kids and families.
Evaluating and Supporting Patients with Long COVID in Returning to Work
June 15, 2023 | 11:00am PT
During this COCA Call, presenters will review some of the complex symptoms specific to Long COVID, discuss medical considerations for recommending return to work, and review accommodations to support patients returning to the workplace.
Vaccine Literacy for the Young
June 21, 2023 | 4:00pm PT
To fight future vaccine hesitancy, we need to bring scientific literacy concerning vaccines to young people. This Vax Ambassador meeting from Voices for Vaccines will discuss what we need to teach children about vaccines, how to reach them, and which partners we should include.
LOS ANGELES COUNTY COVID NEWS & UPDATES
May 30, 2023 – COVID-19 Situational Update
COVID metrics remain stable. On Tuesday, May 23, LAC DPH reported 2,157 COVID-19 cases, which is a slight decrease from the 2,323 COVID-19 cases reported the previous week.
This past week, there was an average of 29 hospital admissionsper day. This is an increase from the average of 26 hospital admissions the previous week.
Last week, LAC DPH reported a total of 35 deaths, an increase from the 20 deaths reported the week before. As we had expected, this number increased from the previous week when it was artificially low due to delays in reporting.
Public Health's Call Center connects eligible residents to free telehealth, homebound vaccination appointments, COVID-19 information, and other resources. Residents are encouraged to call 1-833-540-0473, available daily between 8 a.m. to 8:30 p.m., to access these services.
EXTERNAL NEWS HEADLINES
The Boston Globe: COVID — Remember COVID? — Hits Home 
More than three years after the World Health Organization characterized COVID-19 as a pandemic — and three weeks after WHO said that the virus is no longer a "public health emergency of international concern" — COVID landed at my door. (Renee Graham, 5/30)
AP: US Study Finds 1 In 10 Get Long COVID After Omicron, Starts Identifying Key Symptoms 
Early findings from the National Institutes of Health's study highlight a dozen symptoms that most distinguish long COVID, the catchall term for the sometimes debilitating health problems that can last for months or years after even a mild case of COVID-19. (Neergaard, 5/26)
AP: High Blood Pressure Plagues Many Black Americans. Combined With COVID, It's Catastrophic
In a nation plagued by high blood pressure, Black people are more likely to suffer from it — and so, in the time of COVID-19, they are more likely than white people to die. It's a stark reality. And it has played out in thousands of Black households that have lost mothers and fathers over the past three years, a distinct calamity within the many tragedies of the pandemic. (Stafford, 5/23)