FOLLOW/SHARE LA COUNTY PUBLIC HEALTH SOCIAL MEDIA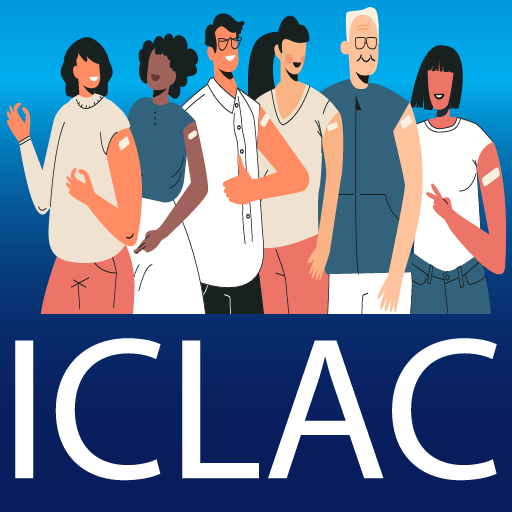 Visit ICLAC's Where to Get Vaccinated page for which routine and recommended vaccines are needed for you or a family member, how to find a vaccination clinic near you, or request in-home vaccination. Information provided is for all routine and recommended vaccines throughout the lifespan including COVID-19 and flu.
Bivalent COVID-19 Boosters – Suggested Messaging from CDPH
Share messages on social media from the California Department of Public Health encouraging eligible Californians to access bivalent COVID-19 vaccines and boosters.
A second COVID-19 bivalent booster is recommended for anyone aged 65 and above, as well as those with weakened immune systems. Learn more about COVID-19 vaccines.
Hep B Foundation Releases New Podcast Episode
May is Hepatitis Awareness Month! For Hepatitis Awareness Month, Hep B Foundation has released a new podcast episode: A Global Perspective on Stigma and Discrimination Against Hepatitis B.
B Heppy is a podcast aimed to inform and help individuals living with hepatitis B through discussing various topics related to hepatitis B. You'll hear from other people who are living with hepatitis B, doctors, scientists, and public health professionals as we tackle new topics every other week. 
Celebrate Asian American, Native Hawaiian, and Pacific Islander Heritage Month (Video)
May is Asian American, Native Hawaiian, and Pacific Islander (AANHPI) Heritage Month! To celebrate, share this video from the We Can Do This Campaign on your social media to honor some of the AANHPI health care heroes whose contributions to medicine have helped save lives.
Sample post: It's Asian American, Native Hawaiian, and Pacific Islander Heritage Month, a time to celebrate and honor the AANHPI community. Discover the monumental stories of these #HealthCareHeroes who have helped advance modern medicine in the U.S.
ICLAC COMMUNITY SPOTLIGHT
Public Health Heart Heroes 2023 Campaign
The Los Angeles County Department of Public Health's LA County Heart Heroes 2023 Campaign has a goal to train 500,000 Los Angeles County residents and workers in hands-only CPR by December 31, 2023.
Residents and workers can find hands-only CPR trainings by searching the Public Health calendar of events or requesting a training for their organization (for a minimum of 150 people). Additionally, community members can become hands-only CPR trainers for their organization as part of the Heart Heroes 2023 campaign. As a partner, organizations will receive training in DPH's hands-only CPR train-the-trainer session, support in training at least 150 individuals, and resources to promote hands-only CPR training.
For more information and to register, visit ph.lacounty.gov/heartheroes.
NEW EVENTS, WEBINARS, TOWN HALLS
Using Social Media to Counter COVID-19 Misinformation
May 24, 2023 | 12:00pm PT
Join CDPH for a conversation about Using Social Media to Counter COVID-19 Misinformation. Dr. Ilan Shapiro, M.D., will discuss using social media to effectively communicate about COVID-19 vaccines and therapeutics.
Vaccines During Pregnancy
May 26, 2023 | 10:00am PT
All Community Health Workers (CHWs) and Promotores are welcome to join this free, virtual discussion on vaccines during pregnancy and how CHWs can navigate vaccination communication with pregnant patients. This meeting is part of a monthly series for CHWs in the U.S. to learn and connect about vaccine-related issues. Meetings will be in English, with live interpretation for Spanish speakers, and non-certified continuing education certificates will be provided.
Digital Equity is Health Equity: Opportunities to Drive Change for Healthy Families and Equitable Communities
May 26, 2023 | 10:00am PT
Join
Insure the Uninsured Project (ITUP)
and The Children's Partnership (TCP) share hot-off-the-press resources on the connection between digital equity and health; explore the barriers to digital access and how structural racism drives digital inequities across California; and highlight timely action opportunities to advance digital inclusion as a basis of health equity for all of California's kids and families.
LOS ANGELES COUNTY COVID NEWS & UPDATES
May 22, 2023 – COVID-19 Situational Update
COVID metrics remain stable. On Tuesday, May 16, LAC DPH reported 2,323 COVID-19 cases, which is a slight increase from the 2,266 COVID-19 cases reported the previous week.
This past week, there was an average of 26 hospital admissionsper day. This is a decrease from the average of 34 hospital admissions the previous week.
Last week, LAC DPH reported a total of 20 deaths, a decrease from the 46 deaths reported the week before.
Public Health's Call Center connects eligible residents to free telehealth, homebound vaccination appointments, COVID-19 information and other resources. Residents are encouraged to call 1-833-540-0473, available daily between 8 a.m. to 8:30 p.m., to access these services.
EXTERNAL NEWS HEADLINES
USA Today: RSV Vaccine For Babies: FDA Panel Recommends Pfizer Maternal Shot
A federal advisory committee raised questions Thursday about the safety of a proposed vaccine to protect newborns against respiratory syncytial virus or RSV, but ended up voting in favor of its approval. (Rodriguez, 5/18)
CNN: Trust In Childhood Vaccines Holds Steady, Despite Skepticism Of Covid-19 Vaccines, Survey Finds
Divisive views on the Covid-19 vaccines haven't shaken the broadly favorable views of routine childhood vaccines, a new survey suggests. Nearly nine out of 10 adults in the US say that the benefits of the measles, mumps and rubella (MMR) vaccines outweigh the risks – a share that's remained unchanged since before the Covid-19 pandemic, according to data published Tuesday by the Pew Research Center. (McPhillips, 5/16)
CNBC: Universal Flu Vaccine Based on mRNA Tech to be Tested by National Institutes of Health
Scientists hope the vaccine will protect against a wide variety of flu strains and provide long-term immunity so people do not have to receive a shot every year. (Kimball, 5/15)