FOLLOW/SHARE LA COUNTY PUBLIC HEALTH SOCIAL MEDIA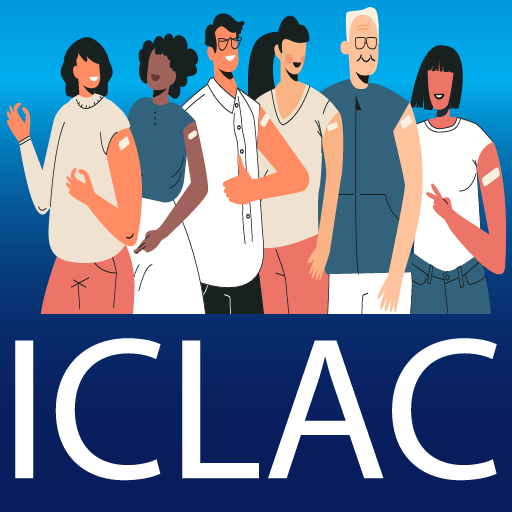 Visit ICLAC's Where to Get Vaccinated page for which routine and recommended vaccines are needed for you or a family member, how to find a vaccination clinic near you, or request in-home vaccination. Information provided is for all routine and recommended vaccines throughout the lifespan including COVID-19 and flu.
Messaging: End of the COVID-19 Public Health Emergency (PHE) Declaration
Public Health Communications Collaborative has developed topline messages for communicating about the end of the PHE with your constituents in the community.
Use this new resource to inform about what the end of the PHE does and does not mean. While the end of the public health emergency declaration has many implications, this guide is designed to communicate the information that is most relevant to the general public. 
National Hepatitis Testing Day is May 19!
CDC continues to recommend routine hepatitis B vaccination for all infants and catch-up vaccination of children and teens younger than age 19 years. Spread the word with graphics and posts on social media to promote Hepatitis Awareness Month and National Hepatitis Testing Day. CDC's social media toolkit is posted on its Hepatitis Awareness Month web page.
FACTSinnated Podcast Episode on Increasing Vaccine Confidence Among Teens
In the latest episode of FACTSinnated from Unity Consortium, Dr. John Santelli shares his insights on barriers to increasing teen vaccination rates and how we can work together to help more adolescents get vaccinated. Listen to the podcast here.
National Nurses Month
Free Nurses Month Webinar – May 17, 2023
On May 17, 2023 – register for a free National Nurses Month webinar: Asking and Advocating for What Nurses Need. ANA's Policy & Government Affairs team will provide you with an overview of how they, with the help of ANA members and advocates, work to improve the nursing profession using the case study of our work to prevent and end Workplace Violence. 
ICLAC COMMUNITY SPOTLIGHT
2023 Perinatal Hepatitis B Newsletter
An Update for Prenatal Healthcare Providers
in Los Angeles County
Let's celebrate the last days of Spring together in a healthy way. Shared Harvest Fund will be a part of CicLAmini on May 21st. This is an important event that reminds us of the importance of walking in our everyday life.
The Shared Harvest team will be present at this event to offer COVID 19 testing, vaccinations for people 5+ to the community in addition to take away bags full of hygiene goodies.
Shared Harvest will also share helpful health education information to keep you healthy in your everyday life.
Come join us May 21st at 109th and Central – 103rd and Grandee, Los Angeles.
Do you want to join their team of volunteers? Click on the following link to check the available volunteering positions:
For registration process, questions and concerns contact Shared Harvest at (323) 400-7843.
NEW EVENTS, WEBINARS, TOWN HALLS
Shingles Prevention Through Vaccination
May 17, 2023 | 9:00am PT
Join the National Foundation for Infectious Diseases (NFID) for a discussion on the importance of herpes zoster vaccination to help prevent shingles.
A Parent's Perspective on Meningitis Awareness and Vaccination
May 23, 2023 | 9:00am PT
Join Connie Ingram, whose son Jackson survived Meningitis B, for a heartfelt discussion about her experience fighting this dangerous disease alongside her son, and subsequently advocating for vaccination in Denver Metro, Colorado, and across the country.
Delivering Pneumococcal Vaccines Post-Pandemic
May 23, 2023 | 10:00am PT
The discussion will cover tools that pharmacists can use to think beyond the pandemic to address vaccine/shot fatigue, vaccine hesitancy, assisting patients in separating myth from fact, and empowering pharmacists to be champions for the immunization neighborhood.
Vaccines During Pregnancy
May 26, 2023 | 10:00am PT
All Community Health Workers (CHWs) and Promotores are welcome to join this free, virtual discussion on vaccines during pregnancy and how CHWs can navigate vaccination communication with pregnant patients. This meeting is part of a monthly series for CHWs in the U.S. to learn and connect about vaccine-related issues. Meetings will be in English, with live interpretation for Spanish speakers, and non-certified continuing education certificates will be provided.
LOS ANGELES COUNTY COVID NEWS & UPDATES
May 15, 2023 – COVID-19 Situational Update
On Tuesday, May 9, LAC DPH reported 2,266 COVID-19 cases, which is an 11% decrease from the 2,533COVID-19 cases reported the previous week.
This past week, there was an average of 34 hospital admissions per day. This is a slight decrease from the average of 41 hospital admissions the previous week.
Last week, LAC DPH reported a total of 46 deaths, a small decrease from the 51 deaths reported the week before.
Although the Public Health Emergency ended last week on Thursday, May 11, 2023.The Los Angeles County Department of Public Health (Public Health) remains committed to ensuring all residents have access to the tools to keep community transmission low.
Public Health's Call Center will continue to operate, connecting eligible residents to free telehealth, homebound vaccination appointments, COVID-19 information and other resources. Residents are encouraged to call 1-833-540-0473, available daily between 8 a.m. to 8:30 p.m., to access these services.
EXTERNAL NEWS HEADLINES
The Los Angeles Times: How Much COVID is in My Community? It's Getting Harder to Tell
With wide-reaching intervention against COVID-19 now firmly in the past, officials and experts continue to preach the importance of individual decision-making to assess and manage their health risks. (Money, Lin II, 5/15)
Scientific American: The 'Brain Fog' Of Long COVID Is A Serious Medical Issue That Needs More Attention 
Long COVID is a neurological disease that happens after people are no longer infected with SARS-CoV-2. Its prevalence appears to be between 15 percent and 30 percent, according to numerous studies. About 46 percent of people who have it report some type of memory disruption. (Emily Mendenhall and Kenton Kaplan, 5/12)
Stat: Covid Emergency Is Ending, But Ashish Jha Says Fight Goes On
On the eve of the expiration date for the federally declared coronavirus public health emergency, White House Covid-19 Response Coordinator Ashish Jha warned that the pandemic is far from over. (Castillo, 5/10)