FOLLOW/SHARE LA COUNTY PUBLIC HEALTH SOCIAL MEDIA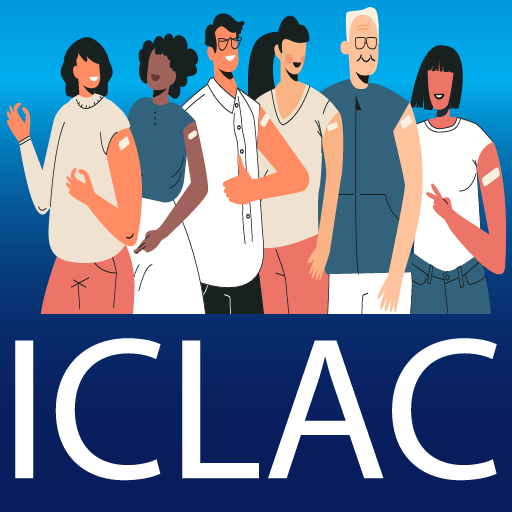 Visit ICLAC's Where to Get Vaccinated page for which routine and recommended vaccines are needed for you or a family member, how to find a vaccination clinic near you, or request in-home vaccination. Information provided is for all routine and recommended vaccines throughout the lifespan including COVID-19 and flu.
New Resources for National Nurses Month – Toolkit and Podcast
National Nurses Week is May 6 – 12, 2023
Celebrate National School Nurse Day on May 10, 2023!

National School Nurse Day was established to foster a better understanding of the role of school nurses in the educational setting.
School nurses are involved in the promotion of vaccines in a school district, as they provide health education to students and families and are responsible for vaccine surveillance. View and share these resources to support your school nurses this week:
NASN Podcast: National Association of School Nurses (NASN) School Nurse Editor, Cynthia Galemore, interviews Olivia Wilson and Brenna Morse about the article "Addressing Vaccine Hesitancy Among Students and Families: Interventions for School Nurses."
May is Hepatitis Awareness Month
The month of May is designated as Hepatitis Awareness Month (HAM)  in the United States, and May 19th is Hepatitis Testing Day. Left untreated, Hepatitis B and Hepatitis C can damage your liver and even lead to liver cancer.
CDC continues to recommend routine hepatitis B vaccination for all infants and catch-up vaccination of children and teens younger than age 19 years. Spread the word with graphics and posts on social media to promote Hepatitis Awareness Month and National Hepatitis Testing Day. CDC's social media toolkit is posted on its Hepatitis Awareness Month web page.
Celebrate Asian American, Native Hawaiian, and Pacific Islander Heritage Month (May 2023)
Join the HHS Office of Minority Health (OMH) to highlight resources and data related to advancing the health of Asian Americans, Native Hawaiians, and Pacific Islanders (AANHPI). Visit the OMH Page for AANHPI Heritage Month.
Looking for in-language materials and resources on COVID-19 vaccinations and other immunizations? Explore these general immunization resources for distribution within your communities from Immunize.org and AA & NHPI Health Central.
Important Updates to COVID Vaccine Dosing Recommendations – Social Media Posts
People 65 and older and people with weakened immune systems can now get a second dose of an updated COVID vaccine.  Additionally, adults can get an updated vaccine now if they are unvaccinated, or if their last vaccine dose was before September 2022.  View Posts
ICLAC COMMUNITY SPOTLIGHT
2023 Perinatal Hepatitis B Newsletter
An Update for Prenatal Healthcare Providers
in Los Angeles County
New CDC Updated Discrepant Hepatitis B Surface Antigen (HBsAg) lab results during pregnancy (February 2023)
New Screening and Testing Guidelines for Hepatitis B Virus Infections
Rubella Screening for Pregnancy
T-Dap Vaccine, Influenza Vaccine, RSV Vaccine, COVID-19 Vaccine News
How to become an LA County COVID-19 Vaccine Provider
Resources for New and Existing Healthcare Providers Using CAIR
Interested in Subscribing to the
PERINATAL HEPATITIS B NEWSLETTER?
Email us at:
[email protected]
Looking for additional Perinatal Hepatitis B resources for parents and providers?
Visit the Perinatal Hepatitis B Website
NEW EVENTS, WEBINARS, TOWN HALLS
Updated Recommendations for COVID-19 Vaccine Use
May 11, 2023 | 11:00am PT
COCA presenters will discuss updated COVID-19 vaccine recommendations by age group and for those with immunocompromise. They will also highlight optional COVID-19 vaccine doses for specific populations. With this simplified schedule, the Centers for Disease Control and Prevention continues to recommend that everyone stay up to date with recommended COVID-19 vaccines to better protect themselves from severe illness and death. Most people in the United States have not yet received an updated (bivalent) mRNA COVID-19 vaccine, with uptake at less than 17 percent.
Building Healthier Communities through Language Access: AANHPI Perspectives and Solutions
May 11, 2023 | 12:00pm PT
The HHS Office of Minority Health (OMH) is hosting a webinar, Building Healthier Communities through Language Access: AANHPI Perspectives and Solutions, in observance of Asian American, Native Hawaiian and Pacific Islander Heritage Month. The webinar will feature two speakers highlighting creative solutions for providing language access services to diverse Asian populations in both community and healthcare settings. Following the presentations, there will be a facilitated panel discussion with additional experts representing Native Hawaiian and Pacific Islander communities and the Plain Language Action and Information Network (PLAIN).
Vaccines During Pregnancy
May 26, 2023 | 10:00am PT
All Community Health Workers (CHWs) and Promotores are welcome to join this free, virtual discussion on vaccines during pregnancy and how CHWs can navigate vaccination communication with pregnant patients. This meeting is part of a monthly series for CHWs in the U.S. to learn and connect about vaccine-related issues. Meetings will be in English, with live interpretation for Spanish speakers, and non-certified continuing education certificates will be provided.
LOS ANGELES COUNTY COVID NEWS & UPDATES
May 8, 2023 – COVID-19 Situational Update
On Tuesday, May 2, LAC DPH reported 2,533 COVID-19 cases, which is a 5% decrease from the 2,659COVID-19 cases we reported the previous week.
This past week, there was an average of 41 hospital admissionsper day. This is a slight increase from the average of 40 hospital admissions the previous week.
Last week, LAC DPH reported a total of 51 deaths, a small decrease from the 54 deaths reported the week before.
Using the CDC's Community Levels framework, which looks at the case rate and two different hospitalization metrics, LA County remains in the Low Community Level for the 14th week in a row.
Visit the LAC DPH Vaccine Data Dashboard for COVID-19 vaccination info in LA County.
EXTERNAL NEWS HEADLINES
Stat: Does End Of Emergencies Mean Covid Pandemic Is Over? 
If you have been looking for a sense of pandemic closure, the World Health Organization's declaration Friday that it was ending the Covid global health emergency was about as close to it as you are likely to get. (Branswell, 5/8)
Los Angeles Times: Deaths From COVID Plunged In 2022, But It's Still A Top Killer
The COVID-19 death toll — now 1.13 million in the U.S. and 6.9 million worldwide — is staggering, with a national death toll that exceeds the last global pandemic of this scale, although the global tally is far lower. The flu pandemic that began in 1918 resulted in an estimated 675,000 deaths in the U.S. and at least 50 million worldwide. (Lin II and Money, 5/4)
The New York Times: RSV Vaccine Approved For Older Adults
The Food and Drug Administration on Wednesday approved GSK's vaccine for the respiratory syncytial virus, or R.S.V., for adults who are 60 and older, the company said. The vaccine, to be sold as Arexvy, appears to be the first in the world approved for sale to protect older adults from R.S.V., a potentially fatal respiratory illness. (Jewett, 5/3)