FOLLOW/SHARE LA COUNTY PUBLIC HEALTH SOCIAL MEDIA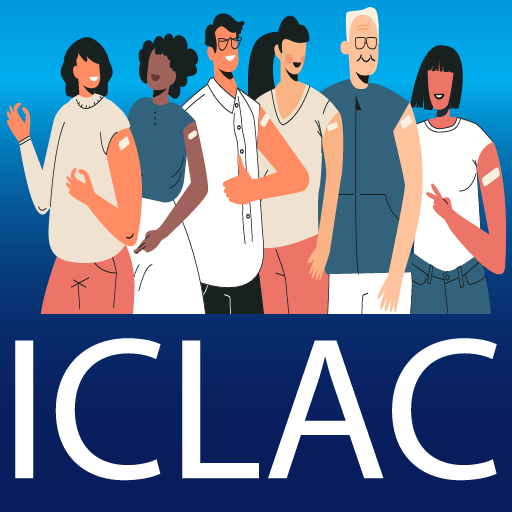 Visit ICLAC's Where to Get Vaccinated page for which routine and recommended vaccines are needed for you or a family member, how to find a vaccination clinic near you, or request in-home vaccination. Information provided is for all routine and recommended vaccines throughout the lifespan including COVID-19 and flu.
May is Hepatitis Awareness Month
2023 Social Media Toolkit
The month of May is designated as Hepatitis Awareness Month (HAM)  in the United States, and May 19th is Hepatitis Testing Day. Left untreated, Hepatitis B and Hepatitis C can damage your liver and even lead to liver cancer. Learn more about prevention, testing, and treatment during #HepatitisAwarenessMonth.
CDC offers additional Hepatitis Awareness month resources that include key facts on viral Hepatitis, activities, and social media messaging for you to share out with your networks:
National Nurses Month
National School Nurse Day is May 10, 2023!
The role of nurses in health care is unparalleled, especially during the COVID-19 pandemic. National School Nurse Day was established to foster a better understanding of the role of school nurses in the educational setting.  
School Nurse Day is celebrated on the Wednesday within National Nurses Week. National Nurses Week is May 6-12 each year.
The National Association of School Nurses offers this toolkit as part of the Champions for School Health project, which aims to increase confidence in and access to pediatric COVID-19 vaccinations. Champions for School Health is created in partnership with the Institute for Educational Leadership and with the financial support of Kaiser Permanente.
We Can Do This Campaign Resources About Long COVID
The We Can Do This Campaign has compiled these resources for leaders who want to inform their communities about Long COVID and how to reduce the chance of getting it through vaccination. You can find FAQs, survivor videos, messages from experts, and social media posts. 
(We Can Do This Campaign)
ICLAC COMMUNITY SPOTLIGHT
Shared Harvest in Partnership with American Heart Association
Cinco De Mayo Vaccine Fiesta
Sunday, May 7, 2023
12pm – 6pm
Shared Harvest is excited to be part of this colorful event offering vaccination, free home test, and hygiene gift bags, and what is more important, health education. At the Cinco de Mayo event, there will be colorful decorations, traditional Mexican music, and delicious food.
This is the perfect event to come together with friends and family to celebrate Mexican heritage and culture and get valuable health education and support. 
Are you interested in joining the Shared Harvest volunteer team for this event? Sign up here: https://signup.com/go/tDBEYLh
For more details: 323.880.0121
NEW EVENTS, WEBINARS, TOWN HALLS
Strategies for Nurses to
Build Trust with Vaccine-Hesitant Patients
May 3, 2023 | 12:00pm PT
May is National Nurses Month! The role of nurses in health care is unparalleled, especially during the COVID-19 pandemic. During May, CDPH is holding a COVID-19 Crucial Conversations webinar for nurses. Please join Sharon Goldfarb, RN, DNP for a webinar on strategies for nurses to build trust with vaccine-hesitant patients.
California Immunization Coalition - 2023 Annual Summit
May 8-9, 2023 - Riverside, CA
The 2023 California Immunization Coalition Summit will take place at The Riverside Convention Center in Riverside, California.
2023 Summit Objectives:
Disseminate innovative approaches to promote and deliver immunizations to all Californians across the lifespan.
Provide support and technical assistance to enhance existing education, communication, and outreach efforts
Share successful strategies and best practices to strengthen local and statewide advocacy efforts.
Review new recommendations, issues and trends in immunizations and vaccine-preventable diseases.
Who Should Attend?
Physicians, pharmacists, nurses, administrators, educators, immunization stakeholders, coalition members, advocates and other providers from the public and private sector who are interested in learning more about current immunization issues, strategies, and activities.
Best Practices for Communicating Public Health Risks to Refugee, Immigrant and Migrant Communities
May 9, 2023 | 10:00 - 11:30 am PT
The National Resource Center for Refugees Immigrants and Migrants (NRC -RIM) is partnering with Minnesota Department of Health (MDH) to hold a risk communication webinar for public health agencies and other organizations serving diverse communities.
LOS ANGELES COUNTY COVID NEWS & UPDATES
May 1, 2023 – COVID-19 Situational Update
On Tuesday, April 25, LAC DPH reported 2,659 COVID-19 cases, which is a 15% decrease from the 3,114 COVID-19 cases we reported the previous week.
This past week, there was an average of 40 hospital admissions per day. This is a decrease from the average of 50 hospital admissions the previous week.
Last week, LAC DPH reported a total of 54 deaths, an increase from the 44 deaths reported the week before.
Using the CDC's Community Levels framework, which looks at the case rate and two different hospitalization metrics, LA County remains in the Low Community Level for the 15th week in a row.
Visit the LAC DPH Vaccine Data Dashboard for COVID-19 vaccination info in LA County.
EXTERNAL NEWS HEADLINES
NBC News: CDC To Stop Tracking Covid Levels In Communities
The Centers for Disease Control and Prevention is planning to stop tracking the spread of Covid in communities across the U.S., the agency said Friday. (Edwards, 4/28)
The Hill: CDC Relaxes COVID Restrictions For International Travelers 
The Centers for Disease Control and Prevention (CDC) is relaxing COVID-19 restrictions on international travelers as the national public health emergency is set to expire next month. The CDC said in an update on its website posted Thursday that it will consider anyone who has received a single dose of a Pfizer or Moderna vaccine on or after Aug. 16, 2022, to meet the requirements for boarding an airplane to the United States. (Gans, 4/27)
The Conversation: People With Long COVID Continue To Experience Medical Gaslighting More Than 3 Years Into The Pandemic
Medical gaslighting occurs when health-care practitioners dismiss or falsely blame patients for their symptoms. While new information about long COVID has become more readily available, some patients continue to face gaslighting and feel that their symptoms are treated less seriously by some health-care professionals. (Purewal, Byers, Jamieson and Zolfaghari, 4/23)