FOLLOW/SHARE LA COUNTY PUBLIC HEALTH SOCIAL MEDIA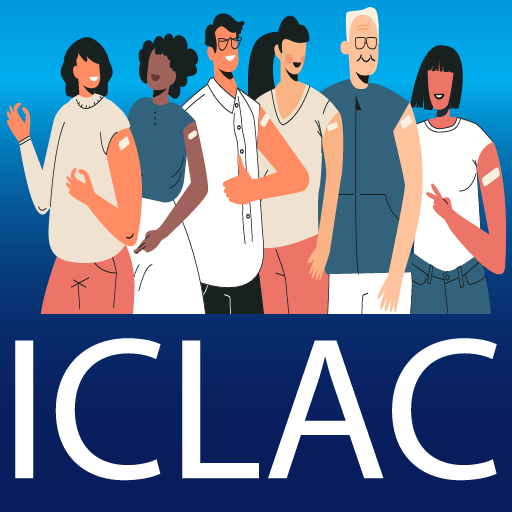 Visit ICLAC's Where to Get Vaccinated page for which routine and recommended vaccines are needed for you or a family member, how to find a vaccination clinic near you, or request in-home vaccination. Information provided is for all routine and recommended vaccines throughout the lifespan including COVID-19 and flu.
National Infant Immunization Week Has Arrived!
April 24 – 30, 2023
National Infant Immunization Week (NIIW), April 24–30, highlights the importance of protecting infants and young children from vaccine-preventable diseases. 
CDC makes it simple to participate in NIIW by using their 2023 NIIW Digital Media Toolkit to plan activities. The toolkit includes updated English and Spanish logos, sample social media content, social graphics, and key messages.
Additional Ways to Support National Infant Immunization Week:
Vaccination is a shared responsibility. Families, healthcare professionals, and public health officials must work together to help protect the entire community.
The Public Health Emergency is Ending:
Toolkits for Organizations and Communities
(Multi-language Fact Sheets Also Available)
On May 11, 2023, the public health emergency (PHE) will expire, and many will see changes in COVID-19 healthcare costs, insurance coverage and renewals, and food benefits. These changes are likely to disproportionately impact some refugee, immigrant, and migrant (RIM) communities. 
Get Your Vaccines and Tests Today While They Are Free.
These communications toolkits from the National Resource Center for Refugees, Immigrants and Migrants (NRC-RIM) were developed to equip your organization and the clients you serve to be prepared for these changes when they begin this spring.
Plain Language Messaging on
CDC's Updated COVID-19 Vaccine Recommendations
On April 19, the CDC updated its COVID-19 vaccine recommendations, aiming to simplify guidance following FDA regulatory action and a CDC advisory committee meeting.
The recommendations allow adults 65 and older and immunocompromised people to get an additional updated (bivalent) vaccine dose.
The CDC also updated its guidance to no longer recommend the use of the original (monovalent) COVID-19 mRNA vaccines. 
Public Health Communications Collaborative (PHCC) created plain language messaging and updated their Answers to Tough Questions to reflect the latest COVID-19 vaccine guidance and help you answer questions on these changes in your community.
May is National Nurses Month!
FREE National Nurses Month Toolkit
The role of nurses in health care is unparalleled, especially during the COVID-19 pandemic. The 2023 National Nurses Month Toolkit from the American Nurses Association is available.
Stay tuned for more resources from ICLAC to celebrate our Nurses over the coming month!
ICLAC COMMUNITY SPOTLIGHT
Black Infant Health Resource and Enrollment Fair In-Person
on Thursday, April 27th, 11:00am - 3:00pm
RSVP [email protected] 323.238.3205
NEW EVENTS, WEBINARS, TOWN HALLS
Strategies for Nurses to
Build Trust with Vaccine-Hesitant Patients
May 3, 2023 | 12:00pm PT
May is National Nurses Month! The role of nurses in health care is unparalleled, especially during the COVID-19 pandemic. During May, CDPH is holding a COVID-19 Crucial Conversations webinar for nurses. Please join Sharon Goldfarb, RN, DNP for a webinar on strategies for nurses to build trust with vaccine-hesitant patients.
Shared Harvest & Girls Club Los Angeles -
Health and Wellness Event
Sunday, May 7, 2023 | 12:00 - 6:00 pm PT
Shared Harvest
is excited to be part of this colorful event offering vaccination, free home test, and hygiene gift bags, and what is more important, health education. At the Cinco de Mayo event, there will be colorful decorations, traditional Mexican music, and delicious food. This is the perfect event to come together with friends and family to celebrate Mexican heritage and culture and get valuable health education and support.
Are you interested in joining the Shared Harvest volunteer team for this event?
For more details call
323.880.0121
California Immunization Coalition - 2023 Annual Summit
May 8-9, 2023 - Riverside, CA
The 2023 California Immunization Coalition Summit will take place at The Riverside Convention Center in Riverside, California.
2023 Summit Objectives:
Disseminate innovative approaches to promote and deliver immunizations to all Californians across the lifespan.
Provide support and technical assistance to enhance existing education, communication, and outreach efforts
Share successful strategies and best practices to strengthen local and statewide advocacy efforts.
Review new recommendations, issues and trends in immunizations and vaccine-preventable diseases.
Who Should Attend?
Physicians, pharmacists, nurses, administrators, educators, immunization stakeholders, coalition members, advocates and other providers from the public and private sector who are interested in learning more about current immunization issues, strategies, and activities.
Best Practices for Communicating Public Health Risks to Refugee, Immigrant and Migrant Communities
May 9, 2023 | 10:00 - 11:30 am PT
The National Resource Center for Refugees Immigrants and Migrants (NRC -RIM) is partnering with Minnesota Department of Health (MDH) to hold a risk communication webinar for public health agencies and other organizations serving diverse communities.
LOS ANGELES COUNTY COVID NEWS & UPDATES
April 24, 2023 – COVID-19 Situational Update
On Tuesday, April 18, LA County DPH reported 3,114 COVID-19 cases, which is a 3% increase from the 3,023 COVID-19 cases reported the previous week.
This past week, there was an average of 50 hospital admissions per day. This is a slight increase from the average of 48 hospital admissions the previous week.
Last week, LA County DPH reported a total of 44 deaths, a decrease from the 59 deaths reported the week before.
Using the CDC's Community Levels framework, which looks at the case rate and two different hospitalization metrics, LA County remains in the Low Community Level for the 14th week in a row.
Visit the LAC DPH Vaccine Data Dashboard for COVID-19 vaccination info in LA County.
EXTERNAL NEWS HEADLINES
The Hill: How Will COVID Shots Be Paid For After Emergency Ends? 
While Americans with insurance are still expected to be able to get vaccinated free of charge, questions remain over how those without coverage can obtain them and the ease of the overall process. Moderna and Pfizer, the companies behind the two most commonly administered coronavirus vaccines in the U.S., are expecting the prices of their shots to increase by as much as four-fold but have stated that consumers should not expect to feel the impact themselves, regardless of insurance status. (Choi, 4/23)
Los Angeles Times: New COVID Coronavirus Subvariant Arcturus Is Now In L.A.
Los Angeles County has identified its first cases of an emerging Omicron coronavirus subvariant dubbed Arcturus, a strain global health authorities are watching closely as it has been linked to an upswing in cases in India. Officially designated XBB.1.16, the subvariant also has attracted attention after anecdotal reports linking it to what has been a rare COVID-19 symptom: pink eye. (Lin II and Money, 4/20)
CIDRAP: US Racial Minorities Less Likely To Get COVID Vaccine After Bad Healthcare Experiences
US racial minorities who reported having worse healthcare experiences than those of other races were less likely to be vaccinated against COVID-19, according to a Centers for Disease Control and Prevention (CDC)-led study published today in Morbidity and Mortality Weekly Report. (Van Beusekom, 4/20)