FOLLOW/SHARE LA COUNTY PUBLIC HEALTH SOCIAL MEDIA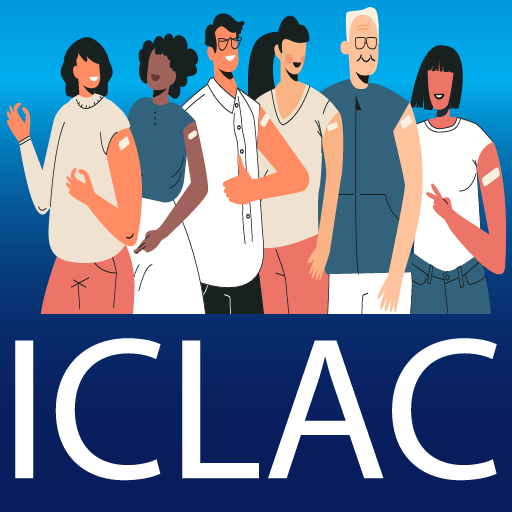 Visit ICLAC's Where to Get Vaccinated page for which routine and recommended vaccines are needed for you or a family member, how to find a vaccination clinic near you, or request in-home vaccination. Information provided is for all routine and recommended vaccines throughout the lifespan including COVID-19 and flu.
National Infant Immunization Week is Coming!
April 24 – 30, 2023
National Infant Immunization Week (NIIW)
, April 24–30, highlights the importance of protecting infants from vaccine-preventable diseases and celebrates the achievements of immunization partners.
Vaccinate Your Family (VYF)
developed the
#LetsTalkAboutVaxBaby campaign
that celebrates the choice to vaccinate while pushing for vaccine access for all. Their message is simple:
we vaccinate our families, and we think everyone who wants to vaccine their kids should be able to.
Vaccinate Your Family has developed this Social Media Sharing Kit to share social media content, social graphics, and key messages with social media audiences.
Vaccines Explained: A New Animated Video Series
Check out their new animated series of short videos Vaccines Explained by
Vaccinate Your Family
. Only about a minute each, the series breaks down how vaccines work, vaccine effectiveness, safety & more.
National Minority Health Month Resource Page
ICLAC COMMUNITY SPOTLIGHT
Public Health Launches Heart Heroes 2023 Campaign
The Los Angeles County Department of Public Health is proud to announce the launch of the LA County Heart Heroes 2023 Campaign, with the goal to train 500,000 Los Angeles County residents and workers in hands-only CPR by December 31, 2023.
Residents and workers can find hands-only CPR training by searching the Public Health calendar of events or requesting training for their organization (for a minimum of 150 people). Additionally, community members can become hands-only CPR trainers for their organization as part of the Heart Heroes 2023 campaign. As a partner, organizations will receive training in DPH's hands-only CPR train-the-trainer session, support in training at least 150 individuals, and resources to promote hands-only CPR training.
For more information, visit ph.lacounty.gov/heartheroes.
NEW EVENTS, WEBINARS, TOWN HALLS
Shared Harvest & Girls Club Los Angeles -
Health and Wellness Event
April 14, 2023 | 9:00 - 8:00 pm PT
Join
Shared Harvest
and
Girls Club Los Angeles
this Wednesday for a community event on Health and Wellness, at 2057 W Century Blvd, Los Angeles, from 9am to 11am. They will answer all the questions you have regarding COVID-19, and the ways you can ask for help and treatment. This is a good opportunity to talk to their team of field experts and get all the information you need. There will be free tasty food, free home test kits and lots of fun.
Understanding and Addressing Misinformation About Science: A Public Workshop
April 19, 2023 | 7:00 am - 2:00 pm PT
The Committee on Understanding and Addressing Misinformation about Science
is hosting a one-day hybrid workshop on April 19, 2023. The workshop will bring together researchers, practitioners, philanthropists, and policymakers among others, for a series of discussions on the topic of science misinformation. Presentations and discussions will address the nature, mechanisms, and differential impacts of misinformation about science as well as explore select interventions to address misinformation and their intended outcomes. Each discussion will include a time of Q&A with the committee and audience. A short reception will follow the event.
How to Support Refugee, Immigrant, and Migrant Communities Before and After the End of the Public Health Emergency
April 20, 2023 | 12:30 pm PT
Join this webinar where panelists from the Migrant Clinicians Network and the International Rescue Committee discuss how the end of the PHE is likely to impact RIM communities and steps to take before May 11 to support RIM community members.
Better Health Through Better Understanding Webinar: Promoting Health Equity & CLAS
April 21, 2023 | 10:00 am PT
Providing
culturally and linguistically appropriate services (CLAS)
is one strategy to help eliminate the well-documented health inequities in the nation. During the webinar, OMH and its partners will highlight federal efforts to promote health equity and CLAS, as well as implementation efforts of local governments to address disparities experienced by vulnerable populations and communities through evidence-based health literacy strategies.
LOS ANGELES COUNTY COVID NEWS & UPDATES
April 17, 2023 – COVID-19 Situational Update
Please note that LAC DPH has moved to weekly COVID data reporting, which is in alignment with the current reporting schedules for the CDC and California Department of Public Health. LA County's weekly case, hospitalization, and death data will be posted online each Thursday.
On Tuesday, April 11, LAC DPH reported 3,023 COVID-19 cases, which is an 11% increase from the 2,713COVID-19 cases we reported the previous week.
This past week, there was an average of 48 hospital admissionsper day. This is a decrease from the average of 55 hospital admissions the previous week.
Last week, LAC DPH reported a total of 59 deaths, a higher number than the 53 deaths reported the week before.
LA County remains in the Low Community Level for the 13th week in a row.
Visit the LAC DPH Vaccine Data Dashboard for COVID-19 vaccination info in LA County.
EXTERNAL NEWS HEADLINES
Stat: Biden's HHS Will Hold On To Some Covid Emergency Powers 
Even though the Biden administration is ending its highest-profile Covid-19 emergency declaration next month, it's still going to hold on to some pandemic-era powers. The Department of Health and Human Services gave governors a heads-up on Friday that it is planning to keep pharmacists' ability to administer Covid-19 and flu vaccines past the end of the public health emergency. (Cohrs, 4/14)
Scientific American: How Often Should People Get COVID Boosters? 
The CDC and FDA have decided that one updated COVID booster is enough for now, in contrast to recommendations from other countries and global health organizations. (Young, 4/13)
U.S. News & World Report: Hospitals Intensify Efforts to Treat Long COVID in Kids and Teens
COVID-19, a puzzling virus in itself, has continued to vex doctors and patients with its sometimes serious, debilitating aftereffects. These persistent symptoms, labeled long COVID and affecting every demographic, are proving particularly worrying as the effects on children and teens are increasingly being recognized. (Levine, 4/11)