FOLLOW/SHARE LA COUNTY PUBLIC HEALTH SOCIAL MEDIA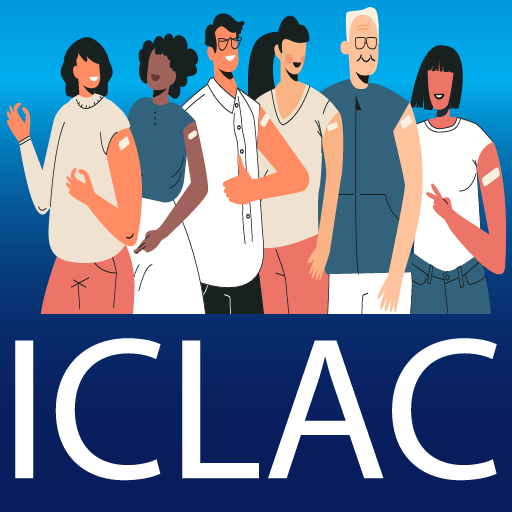 Visit ICLAC's Where to Get Vaccinated page for which routine and recommended vaccines are needed for you or a family member, how to find a vaccination clinic near you, or request in-home vaccination. Information provided is for all routine and recommended vaccines throughout the lifespan including COVID-19 and flu.
Adolescent Immunization Action Week Toolkit for Parents & Providers
Adolescent Immunization Action week (#AIAW23) is April 3-7, 2023. Springtime and school holidays are great time to schedule well visits and vaccinations. Support Adolescent Immunization Action Week (#AIAW23) by downloading and sharing these newly released toolkits for parents and providers from Unity Consortium. Specific action steps to encourage getting caught up on routine vaccinations are included.
National Public Health Week (NPHW) is April 3 – 7, 2023!
Social Media Toolkit to Support Minority Health Month
National Minority Health Month (NMHM) is an annual observance in April to highlight the importance of improving the health of racial and ethnic minorities and reducing health disparities.
Montgomery County Immunization Coalition (MCIC) has created a social media toolkit with culturally and linguistically competent social media messaging to make it easier to encourage communities to stay up to date on COVID-19 vaccines in several languages, including Chinese, Korean, Hindi, Nepali, and Spanish.
State of the ImmUnion Report – Vaccinate Your Family
The CDC recently updated its 2023 vaccine schedules for adults and adolescents.
Vaccinate Your Family (VYF)
provides an overview of several vaccine-preventable diseases along with statistics on how many negative health outcomes are prevented by staying current on vaccines for both children and adults. The e-books are available in English and Spanish.
ICLAC COMMUNITY SPOTLIGHT
Community Strategies for Vaccine Equity for Young Children
March 30, 2023
In honor of National Doctors' Day, join Shared Harvest for an all day, virtual live stream celebration! From 9am – 9pm, Shared Harvest will be streaming their film, I Am Not Your Hero, from 3 stages across the country, followed by panel discussions. If you are unable to attend in-person, join virtually. Join the conversation on social media with #DoctorsDay2023
NEW EVENTS, WEBINARS, TOWN HALLS
A Conversation about Vaccination with Young Advocates
April 4, 2023 | 9:00 am PT
This webinar with teen vaccination advocates moderated by Dr. Chelsea Clinton and featuring Dr. Paul Offit. Dr. Clinton and Dr. Offit will discuss challenges in closing the gap in adolescent vaccination and talk with teen advocates about their needs and challenges in helping adolescents advocate for their health.
Talking with Older Patients About COVID-19
April 58, 2023 | 12:00 pm PT
This session will offer best practices for health care professionals to communicate with older patients about the importance of staying up to date on COVID-19 vaccines and boosters.
Back to School Vaccine Planning Starts Now
April 6, 2023 | 12:00 pm PT
NACCHO is hosting Johns Hopkins Bloomberg School of Public Health International Vaccine Access Center and KFF Greater Than COVID for a webinar to share digital tools health departments can include in their strategies for COVID-19 vaccine confidence and uptake as students return to school in the fall. Learn about a customizable chatbot and FAQ videos featuring trusted healthcare experts available rights-free to use on your websites, newsletters, and social media.
Save the Date: 2023 California Immunization Coalition Summit
LOS ANGELES COUNTY COVID NEWS & UPDATES
March 28, 2023 – COVID-19 Situational Update
The 7-day average number of reported cases is currently 500 cases per day, a decline from the 7-day average of 633 cases reported last week.
This past week, there was an average of 67 hospital admissions per day; this is a decline from the 73 hospital admissions the week before.
Currently, LAC DPH is reporting a 7-day average of 8 deaths per day, a slight decrease from the 7-day average of 12 deaths reported last week.
LA County remains in the Low Community Level for the tenth week in a row.
Visit the LAC DPH Vaccine Data Dashboard for COVID-19 vaccination info in LA County.
EXTERNAL NEWS HEADLINES
Los Angeles Times: Vaccines And Trust Are Key To Preventing COVID Deaths, Study Finds
In a comparison that controlled for demographic differences between states, Arizona's COVID-19 mortality rate of 581 deaths per 100,000 residents was almost four times higher than Hawaii's, where there were 147 deaths per 100,000 residents. Death rates in the hardest-hit U.S. states resembled those of countries with no healthcare infrastructure whatever. (Healy, 3/27)
Bloomberg: Who Gets Long Covid? Women, Older People At Greater Risk
Women, overweight people and those above age 40 are among the groups that have a greater risk of developing long Covid, according to a report published Thursday that makes the case for better pandemic treatment and support. (Peng, 3/23)
Slate: Long COVID: The Truth About It Is Emerging, And It's Not What We Thought
Three years later, the research is catching up to the anecdotal reports and the early evidence, and a clearer picture of long COVID has emerged. It turns out that, like COVID-19 itself, a lot of our early guesses about it turned out to be considerably wide of the mark. This time, fortunately, the surprises are mostly on the positive side. Long COVID is neither as common nor as severe as initially feared. As the U.S. government moves to end the country's state of emergency, it's another reassuring sign that, as President Biden put it during his State of the Union address, "COVID no longer controls our lives." (Wise, 3/19)