FOLLOW/SHARE LA COUNTY PUBLIC HEALTH SOCIAL MEDIA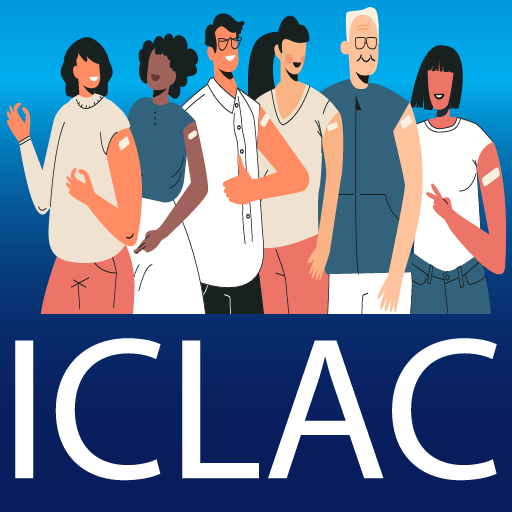 Visit ICLAC's Where to Get Vaccinated page for which routine and recommended vaccines are needed for you or a family member, how to find a vaccination clinic near you, or request in-home vaccination. Information provided is for all routine and recommended vaccines throughout the lifespan including COVID-19 and flu.
State of the ImmUnion Report – Vaccinate Your Family
Every year,
Vaccinate Your Family
writes and distributes a State of the ImmUnion report to help examine the strength of our country's defenses against vaccine-preventable diseases, and what we can do, as public health advocates and policymakers, to make our country stronger and more resilient in the face of emerging health threats. Review and share this repost with your networks today. Vaccinate Your Family will also present highlights from this report at ICLAC's upcoming April Vaccine Forum Event.
New Fact Sheet on COVID-19 Vaccines and Reproductive Health
Adolescent Immunization Action Week is April 3-7, 2023
UNITY Consortium
is urging parents, healthcare providers, and adolescents to help keep adolescents up to date on their immunizations. Access sharable resources and start the vaccination conversation today at Unity Consortium's AIAW23 Resource Page.
Highlights from Latest ACIP Presentation - Meningococcal Vaccines
During the February 22-24, 2023 meeting, members from the
Advisory Committee on Immunization Practices (ACIP)
heard an overview of the epidemiology of meningococcal disease in the United States, and updates on pentavalent (MenABCWY) vaccines from Pfizer and GSK that are being evaluated by FDA. This is significant because it combines MenACWY with MenB, which have different ACIP recommendations. ACIP will continue this discussion at the June meeting, with a potential vote in October 2023.
Thank you to Jerome Sigua for highlighting ACIP updates with ICLAC.
ICLAC COMMUNITY SPOTLIGHT
Register Now: ICLAC's "Let's Rise - Boosting Vaccine Confidence" Vaccine Forum – April 4, 2023
Newly updated details and registration is now available for ICLAC's hybrid April 4th Vaccine Forum. The April 4 event leverages
Let's Rise
, a CDC initiative to support getting all Americans back on-schedule with routine immunizations.
Vaccinate Your Family
will also present their annual
State of the ImmUnion report
to attendees. Register today!
NEW EVENTS, WEBINARS, TOWN HALLS
Community Strategies for Vaccine Equity for Young Children
March 22, 2023 | 10:00 am PT
Join this informative panel discussion that will focus on effective strategies for advancing vaccine equity for young children in early childhood programs. This webinar is open to anyone interested in supporting the vaccination process for young children through community collaborations.
When and How to Respond to Public Health Misinformation
March 28, 2023 | 10:00 am PT
During this webinar, Public Health Communications Collaborative (PHCC) will discuss the differences between misinformation and disinformation, when to respond to misinformation, and approaches for responding across multiple channels.
Save the Date: 2023 California Immunization Coalition Summit
LOS ANGELES COUNTY COVID NEWS & UPDATES
March 13, 2023 – COVID-19 Situational Update
The 7-day average number of reported cases is currently 777 casesper day, a decline from the 7-day average of 866 cases we reported last week. 
This past week, there was an average of 88 hospital admissionsper day; this is a decline from the 102 hospital admissions per day reported the previous week. 
Currently, LAC DPH is reporting a 7-day average of 10deaths per day, a slight decline from the 7-day average of 13 deaths reported last week. LA County remains in the Low Community Level for the eighth week in a row.
Visit the LAC DPH Vaccine Data Dashboard for COVID-19 vaccination info in LA County.
EXTERNAL NEWS HEADLINES
Scientific American: There's a Psychological 'Vaccine' Against Misinformation
A social psychologist found that showing people how manipulative techniques work can create resilience against misinformation. (Yuhas, 3/13)
AP: Pandemic 3 Years Later: Has The COVID-19 Virus Won? 
Saturday marked three years since the World Health Organization first called the outbreak a pandemic on March 11, 2020, and the United Nation's health organization says it's not yet ready to say the emergency has ended. … With information sources drying up, it has become harder to keep tabs on the pandemic. (Johnson, 3/10)
NBC News: What's Your Current Risk Of Getting Long Covid? Estimates Hover Around 5%-10%
It's a question few people know how to answer, even after three pandemic years and more than 100 million Covid cases in the U.S.: When someone gets infected today, what is their risk of developing long Covid? "Even the medical community is unclear on all of this. The data is just emerging so rapidly and the estimates are varied," said Dr. Rainu Kaushal, chair of the department of population health sciences at Weill Cornell Medicine. (Bendix, 3/10)