Thanks to all in the past and present who support the Immunization Coalition of Los Angeles (ICLAC) efforts to improve immunization education and uptake in underserved communities.
Please note, the ICLAC newsletter will change from weekly to monthly beginning July 2023, after the holiday week.  We will include a publication schedule.
This is a special edition 25thanniversary edition, based on the high volume of requests from the Vaccine Film Forum. Please enjoy viewing the film and excerpts at your leisure.
To watch, click the image below.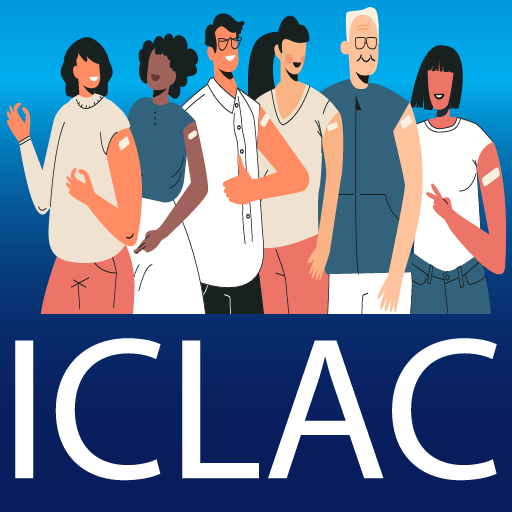 Visit ICLAC's Where to Get Vaccinated page for which routine and recommended vaccines are needed for you or a family member, how to find a vaccination clinic near you, or request in-home vaccination. Information provided is for all routine and recommended vaccines throughout the lifespan including COVID-19 and flu.
Public Health's Call Center connects eligible residents to free telehealth, homebound vaccination appointments, COVID-19 information, and other resources. To access services, call 1-833-540-0473, daily between 8 a.m. to 8:30 p.m.
New Events, Webinars and Townhalls
Fireside Chat: The Road Ahead
July 25, 2023 | 9:00am PST
El seminario web estará disponible en español / Spanish translation available!
Over the past two years - thanks to your partnership and commitment - the Vaccine Equity Cooperative made great strides in addressing the dire and urgent health inequities that were exacerbated by COVID19 - and we have a tremendous opportunity to keep up the momentum. Learn more about the next phase of our work
(previewed last month!)
at our upcomming Fireside Chat Tuesday, July 25th.
Vaccines in Children under 5 / La Vacunación en Niños menores de 5 años
July 28, 2023 | 12:00am CST

All Community Health Workers (CHWs) and Promotores are welcome to join this free, virtual discussion on vaccines for children under 5. This meeting is part of a monthly series for CHWs in the U.S. to learn and connect about vaccine-related issues. Meetings will be in English, with live interpretation for Spanish speakers, and non-certified continuing education certificates will be provided.

Invitamos a todos los Promotores de Salud a unirse a esta conversación virtual gratuita sobre vacunas para niños menores de 5 años Esta reunión es parte de una serie mensual para Promotores de Salud para aprender y conectarse sobre temas relacionados con las vacunas. Las reuniones serán en inglés, con interpretación en vivo para aquellos que prefieren español, y se proporcionarán certificados de educación continua no certificados.
Biomedicine Lecture Series and Health Equity Research Outreach (BLS-HERO) Joint Event — Contagious Information: Building Trust While Debunking Disinformation
The NIH HERO series highlights the work and voices of those involved in health equity research and aims to foster collaborations addressing pressing challenges and opportunities in this area of research. During this event, Dr. Seema Yasmin, director, Stanford Health Communication Initiative, discussed how information equity is a social determinant of health, the role of infodemics in public health crises, and solutions for building trust in public health.
July is National Minority Mental Health Awareness Month
• The HHS Office of Minority Health (OMH) observes National Minority Mental Health Awareness Month each July to shed light on the unique mental health struggles that racial and ethnic minority communities face. • Throughout the month, OMH will share tools and resources to help state, tribal, and local leaders; community-based organizations; faith leaders; health care providers; and individuals educate their communities about mental health stigma.
Respiratory Syncytial Virus (RSV) Infant Update
The Advisory Committee on Immunization Practices (ACIP) is reviewing new immunization strategies for preventing Respiratory Syncytial Virus (RSV) in infants. RSV is the leading cause of hospitalization in infants under 12 months and accounts for approximately a half a million-emergency department visits annually. RSV prevention strategies have evolved and after nearly 50 years there are new immunization approaches on the horizon. One infant strategy being evaluated is a single dose of a monoclonal antibody that would provide seasonal prevention, similar to flu, through passive immunization
Shared Harvest Paxlovid Treatment Webinar
June 30, 2023 | 6:00 pm PST
Are you interested in learning more about the latest advancements in the treatment of COVID-19? Join Shared Harvest, Friday, June 30, at 6:00pm PST, for their webinar series focused on the use of Paxlovid medication in treating COVID-19. Paxlovid is an oral medication that has been authorized for emergency use by the FDA. It has been shown to be effective in reducing the risk of hospitalization and death among high-risk individuals with COVID-19. June 30, 2023 6:00 pm PST The webinar series will feature leading medical experts who will discuss the latest research on Paxlovid and its potential benefits in treating COVID-19. Participants will have the opportunity to ask questions and engage in discussions with the experts. Don't miss out on this opportunity to learn from leading experts in the field and stay up-to-date on the latest advancements in COVID-19 treatment.
Addressing Vaccine Hesitancy in the U.S
June 29, 2023 | 9:00 am PST
Join the National Foundation for Infectious Diseases (NFID) for a webinar addressing adult vaccine hesitancy in the US. This webinar will feature interactive case studies to address current vaccine recommendations and gaps in coverage. Presenters will share strategies for effective communication on vaccine recommendations for influenza (flu), pneumococcal disease, hepatitis B, Tdap, and COVID-19 for US adults.
At the conclusion of this activity, participants will be able to:
Identify issues, barriers, and challenges that impact adult vaccine acceptance in the US
Discuss health disparities in coverage for adult flu, pneumococcal disease, hepatitis B, Tdap, and COVID-19 vaccines in the US
Evaluate and apply strategies for implementation of US adult immunization recommendations into practice
SAVE THE DATE


LAC DPH - AAP Pediatric Information Session for Providers
July 11, 2023 | 12:00pm PST

Los Angeles County Department of Public Health invites you to join the next Vaccine Preventable Disease Control Information Session for Pediatric Providers scheduled Tuesday, July 11th at 12:00 pm. The theme is School Health, and we are pleased to announce that LAUSD's, Chief Medical Director, Smita Malhotra, MD, will join us to present "Health Access and Equity in a School Setting."

Please contact

[email protected]

to be added to the meeting invite or use the following Microsoft Teams link.
Do you know a teen between 14-24 years old and looking for a job? The County of Los Angeles Youth@Work program provides youth with a menu of services that offer access to paid work-based learning, work readiness, paid personal enrichment training, academic and career development, and advanced career services. See the attached flyer for more information. To complete the interest form, visit https://yaw.opportunity.lacounty.gov/yaw-participant.   
 Do you know a teen entering the 12th grade in a public Los Angeles County high school who identifies as black or African America? Do they have a cumulative GPA of 3.0 or higher? Have they demonstrated a commitment to community service and service to others? They are invited to apply for the Dr. Donald Brown Servant Leadership Award! See the attached flyer for more information. Applications are due by July 16, 2023. Apply by visiting https://cbmla.org/cause/dr-brown/#Apply.
Public Health Ambassador Team
ICLAC Community Spotlight
It's Bigger Than Us – LA and provide a platform for our community to come together in celebration, inspiration, and unity. These special gatherings offer unique opportunities to experience the impact of our work, connect with like-minded individuals, and forge lasting partnerships for a brighter future. We invite you to join us in these memorable events and help us create an even more significant impact.
Los Angeles County COVID News and Update
June 26, 2023 – COVID-19 Situational Update
A. County remains in the Low CDC COVID-19 Hospital Admission Level.
The FDA is meeting soon to discuss a recommendation for an updated fall COVID-19 vaccine targeting the newer XBB.1.5 subvariant

Current bivalent vaccines are still available and recommended

For additional resources for COVID-19 vaccines, reducing the risk of COVID-19, symptoms & what to do if you're sick, vaccine facts, what parents need to know, vaccine consent forms for minors, and vaccine schedules please visit the
Community Resources: English: ph.lacounty.gov/covid19/resources |Spanish: ph.lacounty.gov/covid19/recursos
California Public Health updated information about COVID-19 testing, resources, and fact sheets: COVID-19 Vaccine Facts (English|Spanish|Tagalog) |Testing & COVID-19 – What You Need to Know
Guidance for Medi-Cal Free Tests is now available in the following languages: English, Spanish, Arabic, Armenian, Chinese Simplified, Chinese Traditional, Hmong, Khmer, Korean, Punjabi, Russian, Tagalog, Thai, Vietnamese
On Tuesday, June 20, LAC DPH reported 1,817 COVID-19 cases, which is a slight increase from the 1,716 COVID-19 cases reported the previous week.

The 7-day moving average of daily new COVID hospital admissions is 31 cases for admissions from May 29, 2023 to June 19, 2023. This is a small decrease from the 7-day moving average of 28 cases for admissions from May 22, 2023 to June 12, 2023.

Last week, LAC DPH reported a total of 25 deaths, a decrease from the 36 deaths reported the week before.

Public Health's Call Center connects eligible residents to free telehealth, homebound vaccination appointments, COVID-19 information, and other resources. Residents are encouraged to call 1-833-540-0473, available daily between 8 a.m. to 8:30 p.m., to access these services.
CDC: Nearly 1 in 4 Americans hadn't had COVID-19 by end of 2022
A CDC report estimates that nearly one in four Americans older than 16 had not been infected with SARS-CoV-2 as of December 2022, while 77.5% had antibodies against the virus from prior infection and 96.7% had antibodies from vaccination, prior infection or both.
The estimates, based on analyses of blood donation samples from October to December 2022, shows the percentage of infection-induced seroprevalence was highest among people ages 16 to 29 at 87.1% and lowest among adults 65 and older at 56.5%.
Full Story: CBS News (7/3),  The Hill (7/3),  HuffPost (7/4)
The New York Times: What I Need to Tell America Before I Leave the C.D.C.
Exactly one year after the first laboratory-confirmed case of Covid-19 was identified in the United States, I began my tenure as the 19th director of the Centers for Disease Control and Prevention. (CDC Director Rochelle P. Walensky, 6/27)
CBS News: CDC Tracking New COVID Variant EU.1.1
The Centers for Disease Control and Prevention is now separately tracking several new COVID- 19 variants, the agency announced Friday, adding more Omicron descendants to an increasingly complex list of new strains that are competing nationwide. Among the new variants now being tracked by the CDC is EU.1.1, a strain first designated by scientists earlier this year over its rapid ascent in some European countries. (Tin, 6/23)
Fortune: Whether By Infection or Vaccine, 96.4% of Americans had COVID Antibodies in Their Blood Last September, Massive Survey Finds
Antibodies to SARS-CoV-2, the virus that causes COVID-19, were present in the blood of 96.4% of Americans over the age of 16 by September 2022. That's according to a serosurvey – an analysis testing for the presence of these immune defense molecules – conducted on samples from blood donors. (Hitchings, Cummins 6/17)